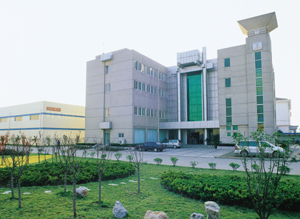 HONGXIN was invested by Japanese "Naniwa abrasives co.ltd", our line of abrasive products are engineered and manufactured to high and premium standards of excellence.

HONGXIN thinks that "premium quality comes from the rigorous management".

HONGXIN has a highly trained technical staff of engineers and production workers who effect a perfect and strict testing system for material collecting, procedure control, end-product testing and detailed records of production.

We use the latest technology and machinery from Europe and Japan, the best raw materials from Germany, USA and Asia,

HONGXIN is in the position to supply various products suitable to different applications,different regions and satisfactory to special requirements.

We supply the full sizes of products from Diameter 22mm to 900mm with thickness 0.3mm to 200mm.Few companies can do so in China!!

If you have any special inquiry,please let us know it.
HONGXIN has achieved an ISO9001 and ISO14000 certification by TUV .
HONGXIN has achieved product safety certification by MPA .
Our products have been confirmed by SGS according to the requirements of REACH Regulations.

2.Our History:
In July of 2005,NanJing HongTeng Abrasives Co.Ltd was established.

In March of 2000 ,NanJing HongXin Grinding Wheel Co. Ltd. was established.

In March of 1997 ,HongXin Grinding Wheel(changShu)Co. Ltd. was established.
3.our strategy:
To build enterprise culture by "full rigour".
To be a customer-oriented company.
To be trusted by customers with first-class products.
To add value to our brands by featurered service.